The mainshock occurred at 19h and 18 m (UT) and was located about 26 miles SSW of Bakersfield or 13 miles west of Wheeler Ridge California. The depth of the earthquake was about 6 km. The earthquake had a thrust faulting focal mechanisms with a nodal plane striking N68°W and dipping 63° and a second nodal plane striking N112°W and dipping 36° The thrust faulting mechanisms means that the region is under north-south compression. So far the mainshock has been followed by 25 aftershocks, with the largest of magnitude 2.7.
The previous moderate-sized earthquake in the area was a ML4.3 that occurred on 14 February 2004 and was located 11 miles WNW of Wheeler Ridge.
Shown below are ShakeMap, Moment Tensor Solution, Simpson Map, Background Seismicity Map, CIIM, and Event List for the M5.2 event.
Moment Tensor Solution for Event 14138080:

                    -------                    
              -------   ---------              
           ---------- P ------------           
         ------------   --------------         
       ---------------------------------       
      -----------------------------------      
     -------------------------------------     
    ----------------------#################    
    #----------------######################    
   ##------------###########################   
   ###--------##############################   
   ###-----#################################   
   ####--##################   ##############   
   ####--################## T ##############   
    ##----#################   #############    
    #-------###############################    
     ---------###########################-     
      ------------####################---      
       ----------------##########-------       
         -----------------------------         
           -------------------------           
              -------------------              
                    -------                    

Lower Hemisphere Equiangle Projection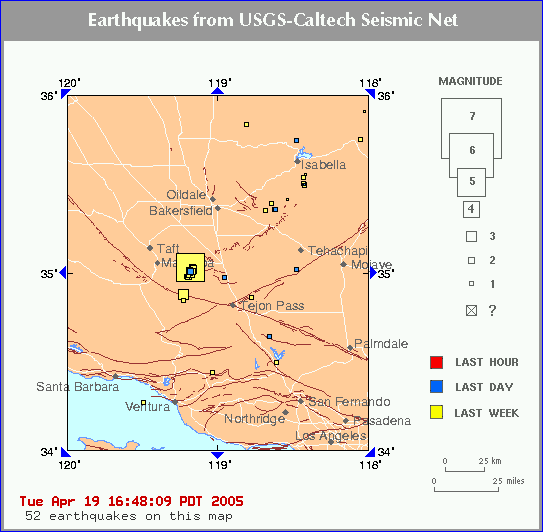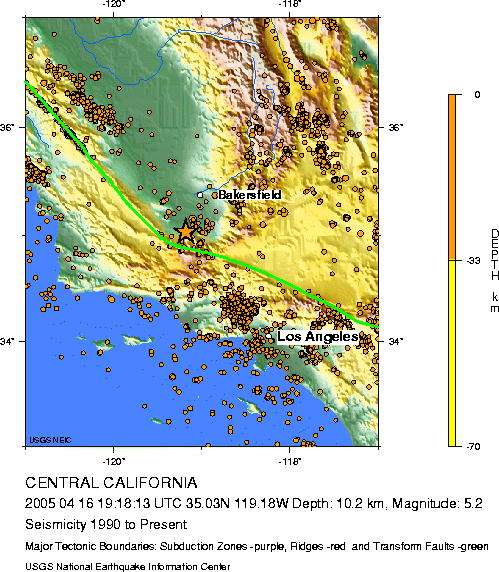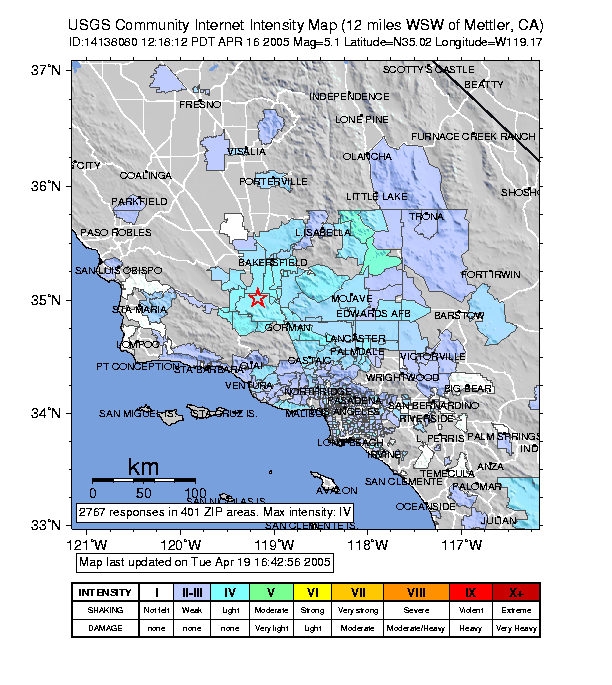 List of Mainshock and Aftershocks for 2005 Wheeler Ridge Sequence:
| Event ID | MAG | YYYY/MM/DD HH:mm:SS | LAT | LON | DEP | LOCATION |
| --- | --- | --- | --- | --- | --- | --- |
| 14138004 | 1.6 | 2005/04/16 02:31:35 | 34 50.6 N | 119 13.5 W | 14.5 | 26 km (16 mi) W of Frazier Park, CA |
| 14138080 | 5.2 | 2005/04/16 12:18:13 | 35 1.6 N | 119 10.7 W | 10.3 | 22 km (13 mi) W of Wheeler Ridge, CA |
| 14138084 | 2.0 | 2005/04/16 12:21:31 | 35 1.9 N | 119 9.9 W | 13.2 | 20 km (13 mi) W of Wheeler Ridge, CA |
| 14138092 | 1.8 | 2005/04/16 12:24:54 | 34 58.7 N | 119 12.3 W | 13.7 | 24 km (15 mi) W of Wheeler Ridge, CA |
| 14138088 | 2.4 | 2005/04/16 12:27:38 | 35 0.9 N | 119 9.8 W | 11.3 | 20 km (13 mi) W of Wheeler Ridge, CA |
| 14138104 | 2.4 | 2005/04/16 12:43:12 | 35 0.8 N | 119 9.7 W | 11.5 | 20 km (12 mi) W of Wheeler Ridge, CA |
| 12192747 | 1.5 | 2005/04/16 12:44:33 | 34 58.4 N | 119 11.2 W | 7.2 | 23 km (14 mi) W of Wheeler Ridge, CA |
| 09860362 | 1.8 | 2005/04/16 12:50:34 | 35 0.3 N | 119 10.2 W | 12.4 | 21 km (13 mi) W of Wheeler Ridge, CA |
| 14138112 | 2.3 | 2005/04/16 12:56:06 | 35 0.7 N | 119 10.8 W | 12.2 | 22 km (13 mi) W of Wheeler Ridge, CA |
| 14138116 | 2.4 | 2005/04/16 12:57:43 | 35 0.5 N | 119 11.0 W | 11.5 | 22 km (14 mi) W of Wheeler Ridge, CA |
| 14138120 | 2.0 | 2005/04/16 13:16:17 | 34 59.8 N | 119 10.2 W | 13.9 | 21 km (13 mi) W of Wheeler Ridge, CA |
| 14138124 | 1.7 | 2005/04/16 13:49:06 | 35 0.3 N | 119 11.0 W | 10.5 | 22 km (14 mi) W of Wheeler Ridge, CA |
| 14138148 | 2.4 | 2005/04/16 14:30:58 | 35 0.3 N | 119 10.4 W | 11.9 | 21 km (13 mi) W of Wheeler Ridge, CA |
| 14138180 | 2.2 | 2005/04/16 18:43:38 | 34 60.0 N | 119 11.1 W | 14.2 | 22 km (14 mi) W of Wheeler Ridge, CA |
| 14138192 | 1.5 | 2005/04/16 19:38:25 | 35 0.7 N | 119 10.4 W | 5.6 | 21 km (13 mi) W of Wheeler Ridge, CA |
| 14138276 | 1.5 | 2005/04/17 05:44:34 | 35 1.4 N | 119 10.1 W | 12.3 | 21 km (13 mi) W of Wheeler Ridge, CA |
| 14138304 | 1.2 | 2005/04/17 09:55:21 | 34 58.3 N | 119 11.9 W | 12.5 | 24 km (15 mi) W of Wheeler Ridge, CA |
| 14138308 | 2.0 | 2005/04/17 10:02:45 | 34 59.4 N | 119 10.5 W | 14.4 | 21 km (13 mi) W of Wheeler Ridge, CA |
| 14138316 | 2.2 | 2005/04/17 12:00:25 | 35 1.4 N | 119 9.5 W | 12.6 | 20 km (12 mi) W of Wheeler Ridge, CA |
| 14138356 | 2.0 | 2005/04/17 15:15:45 | 35 0.1 N | 119 11.1 W | 11.5 | 22 km (14 mi) W of Wheeler Ridge, CA |
| 14138396 | 2.1 | 2005/04/17 17:04:22 | 35 0.5 N | 119 9.9 W | 11.8 | 20 km (13 mi) W of Wheeler Ridge, CA |
| 14138420 | 1.6 | 2005/04/17 22:37:13 | 34 59.0 N | 119 11.7 W | 15.2 | 23 km (14 mi) W of Wheeler Ridge, CA |
| 14138496 | 1.7 | 2005/04/18 10:36:10 | 35 0.8 N | 119 10.8 W | 15.8 | 22 km (13 mi) W of Wheeler Ridge, CA |
| 14138572 | 2.6 | 2005/04/18 14:41:32 | 35 0.8 N | 119 11.0 W | 12.1 | 22 km (14 mi) W of Wheeler Ridge, CA |
| 14138648 | 2.6 | 2005/04/18 19:58:11 | 35 0.4 N | 119 10.6 W | 11.4 | 21 km (13 mi) W of Wheeler Ridge, CA |
| 14138652 | 1.7 | 2005/04/18 20:20:02 | 34 58.4 N | 118 57.1 W | 16.4 | 4 km (2 mi) SSW of Wheeler Ridge, CA |