10:48AM February 1, 2010
A Mw4.4 earthquake occurred at 6:16AM PST just south of the the US/Mexico border, 30 miles SW of Rosarito, Baja California Norte, Mexico. The event was felt throughout northern Baja, and throughout the San Diego County.
Report by the California Integrated Seismic Network (Caltech/USGS)
Doug Given, Egill Hauksson, Kate Hutton, Anthony Guarino
Update 2/01/10 11:48 AM PST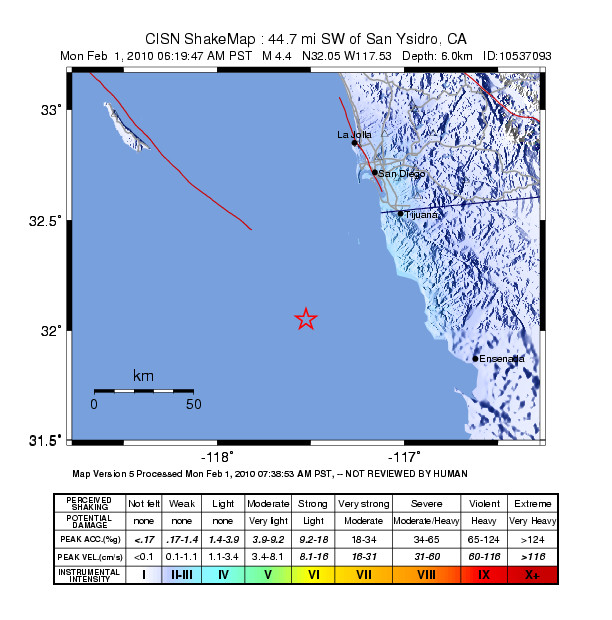 TECTONIC CONTEXT
The moment tensor mechanism is consistent with a right-lateral strike-slip fault plane striking 298° (N62W). The event depth is poorly constrained but appears to be shallow at about 6km depth.
This event is in the vicinity of the offshore San Isidro Fault which is a Southern extension of the San Clemente fault. These and other northwest striking faults of the inner continental borderland are part of the broad boundary accommodating slip between the North American and Pacific plates.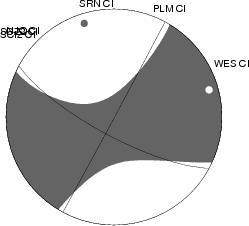 HISTORIC
This event occurred in an area that his been seismically active in the past. There was a M6.2 near this location in 1964. A M5.3 event occurred about 30 mi NW of this location on June 15, 2004.
EFFECTS
No damage has been reported. About 2400 reports have been received on Did You Feel It. The event may have been weakly felt by as many as 3 million people. The PTWC issued a statement that a tsunami would not be generated.